Master Reseller: David Zohar
Who Else Wants
The Best Free Ebook?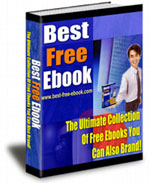 new version 1.3
Your Most Important FREE Download
April 2003
From the Desk of John Delavera (who is John?)
Dear reader,
In a few moments you'll be able to offer to your customers, subscribers or visitors to your web site the best freebie - just released on the Net.
The Best Free Ebook includes:
44 free ebooks - 20,351KB in total (browse)

32 different ebook authors (browse)

5,000+ affiliate links inside the ebooks you can brand free
PLUS:
61 affiliate links you can customize if you're ready to make some REAL money - while giving the Best Free Ebook away.
The Best Free Ebook is a PDF file - that means Everybody Can Read It: Both PC and Mac users! You just need to have the free Adobe(TM) Acrobat Reader installed into your computer - it's free and you can get it here (a new window will open).
You do NOT need to:
Upload any ebook in your server.

Pay anything for re-distributing it.

Download a huge file: the Best Free Ebook is less than 800KB!
Click here to read more about the built-in viral marketing power of the Best Free Ebook - or witness its uniqueness by downloading it Now!
Fill the form and press 'Download' once: